All Star ADO Singles Cricket Tournament - 2006
(For Current NODA Members Only)
There is NO COST ($0.00) to enter this Tournament.
Was held Saturday, September 23, 2006
Sign Up Started at 11:00 a.m.
Play started at Noon
Both Men's and Women's matches were held at:
Rumors Bar & Grill
72 Auburn Ave
Pontiac MI 48342
248.335.7420
Male Winners
1st Place - Jimmy Smith
2nd Place - Michael Abbott
Female Winner
1st Place - Jill Petrosky
Everyone in the League was invited.
Congratulations to Jimmy Smith for winning. Jimmy defeated Michael Abbott in a rematch of the 501 All Star qualifier. To reach the finals, Jimmy defeated John Rumney and Michael defeated Bill Swanson in the semi-finals. Also in attendance were Mike Evans, Travis Murdock, Pat Kovac, Ruben Flores, Walt Paton, Jeremy Brown, and Jill Petrosky.
Big thanks go out to Rumors Bar & Grill for allowing us to run the tournament at their venue and even bigger thanks go out to the people who helped transport, set up, and tear down the boards. Remember, our league does not have to run these tournaments, so please lend a helping hand at tournaments setting up and tearing down. We're all there to have fun, and it's no fun getting stuck doing all the grunt work (especially in the rain).
Thank you,
Michael "lost to Jimmy "Lightning Bolt" Smith again" Abbott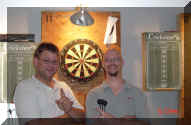 Click on this thumbnail to enlarge it
---
THE REGIONAL TOURNAMENT FOR AREA IV-4 WAS HELD:
SUNDAY, NOVEMBER 12, 2006 at 11 am at
Westwood at the Crossing
(formerly Westwood Ranch)
5760 W River Rd NE
Belmont, MI 49306
616.363.5104

Region IV-4 will be sending 1 woman & 1 man to the Cricket Nationals in January or February 2007 at the LAS VEGAS OPEN.